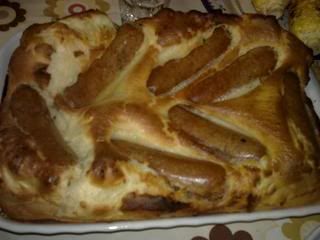 What a lovely dish it's a simply wonderful creation from the humble origins of British cooking. Definitely one of the finest English creations around. Toad in the hole recipe is real comfort food, it's so easy to make and costs very little for a huge serving. It also great for vegetarians, as you can swap any meat sausage for a vegetarian option. Oh just to note it does not involve frogs or toads as my children thought!
Toad In The Hole Ingredients:
Serves 2
1 large Egg
3 heaped tablespoons of Plain Flour
5 tablespoons of Milk
Pinch of Salt
4 or more Sausages of choice
1 teaspoon of oil (I use olive)
How To Make Toad In The Hole
Preheat oven to 230 C / 450 F / Gas 8
Put sausages (and oil if the sausages aren't fatty) into a baking dish (I use a pyrex dish lid) and put into the preheated oven
They will need to cook for 8-10 minutes
Meanwhile...
Break the egg into a jug
Add a pinch of Salt and whisk
Add the Flour and the Milk
Whisk together
You want a smooth consistency that will pour easily, but isn't runny
If the consistency isn't right, add more Flour to thicken, or Milk to thin
Put mixture into the fridge until needed
Once the 8-10 minutes are up, carefully take the dish from the oven and add the batter mix
Cook for 20 minutes
You now have a fully risen Toad In The Hole
Serve with steamed veg of your choice , mashed pot's and Gravy!