It is my first time using this type of yarn well cotton really, i must say its a luxuary to hook with and at that price i am not suprised , this is a batch i brought on ebay fairly cheeply compared to what they charge out there really.....so one chain lead to another and this is whats happening........
i love the neatness and stiffness of this cotton and always almost getting the right gauge alhamduilah its great!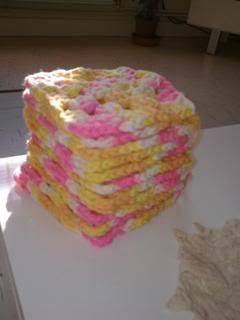 I want to block them so far they have been so many things coasters, table saver, blanket, throw , pillow options are many but not decided can you help?
I wanted to see how a white edging would look , its very nice but i need to purchase some white cotton as the wool well lessens the look and feel.
I had a go at hexagons but i don't like them they went all culry and i will try again using another pattern.