I came here to blog . Sometimes i just can't or just don't want to share my personal with all sometimes i feel drawn away, to hide away, to keep away.
I have had a busy week with the younger two at home half term the first this academic year so far. The first day started with a trip to the Picture House ...second day a family learning festival.........the week flew by and today its far from bliss as they are still at home and don't go back until tomorrow. We was due another trip to the picture House today seeing its half price on Mondays but someone is being punished.
I have been very busy organising a Henna party for a
fellow
blogger , a true cyber friendship....my first ever in fact and now i am here arranging her henna party subhanAllah. I don't want to give away to many details but i want a mix of the Western, Asian (Desi) and Islamic , to reflect the bride to be and her circle of friends. I am also taking this oppurtunity to finally meet another fellow blogger
Happy Muslim Mama
another lovely lady who i have gotten to know online via her blog world. A few from the blog world are coming, also from the Forum that Ammena ownes indecently.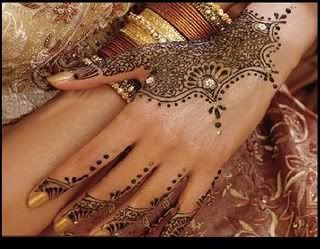 Don't worry Ammena its not your cake! I am cooking an Indian feast of food with vegetarian in mind although some chicken has sneaked in ...somehow!