If you like Bounty chocolate then this one is for you, i adore coconut in various forms. I wanted to make these , well something similar but don't know how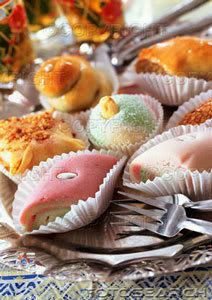 As in Algeria i had cakes made for Eid to share with family and neighbours for EID , here i guess peep's give one another gifts but this is too costly and i am not to happy about all this pressure to buy gifts. So here is one tradition i will keep for my Algeria experience.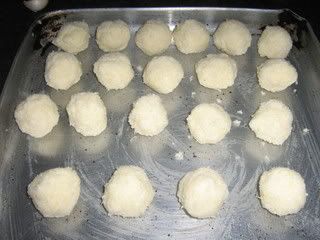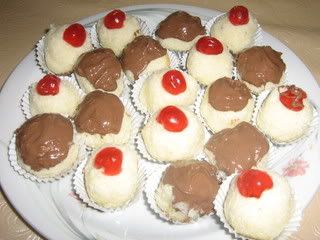 sorry ladies i didn't mean to forget to post , i just didn't! Umm Hibaat glad you recognised them as i forgot the name!
Ok
So you will need
Coconut i used 3 measures
1 measure of sugar
1-2 table spoons of melted butter or marg
1 tablespoon of lemon juice
egg white to bind

Method
Put all in a bowl and mix well
tightly shape golf ball sized balls and place on oiled tray , top with half a cherries, some times you can put into the cup cases and bake in them as the are fragile and fall apart but as i wanted to coat in choc i didn't.
Now bake at gas mark 5 for a very little time like 7 Min's , keep an eye on them as they burn quick. allow to cool and coat in melted chocolate.
It's really easy.