I have been doing a bit nothing finished yet but soon inshaAllah!
Remember
this
find?
Well i started
A cushion cover, i adore that silvery brown wool , the look and texture are very nice , even greater when worked into a project!
Now i took
Umm Hibaat's
advice and started some smaller items that gave me instant gratification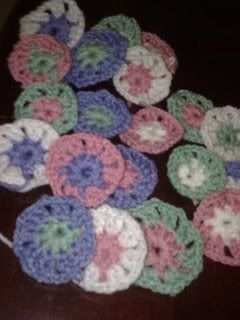 DD wants a lap top cover but i want a coaster or table mat, perhaps a doily thingy to throw over the stereo to keep the dust off.
I have also been inspired to do some sewing again for my little DD7yrs old
Who recalls the Gingham for school uniform in the summer, well i want my DD to feel cool and comfortable whilst looking good in a modest dress. I managed to get the fabric and i am going to try make something up myself, will post when i have done it inshaAllah. I will most likely go for a two piece long top with trousers.