In the form of wool or Yarn if like, i found some cheep wool today and i am looking forward to starting some new projects!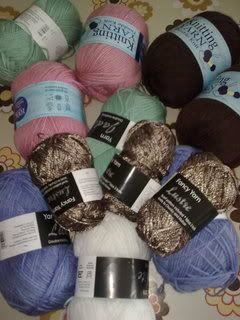 I also fond some great sites for shopping online if your UK based perhaps you would like to look.
here is some i purchased from
here
i wanted yarn for making a jewerelly the silver is too silver and my kids describe it as tin foil. The others are nice but soo hard to crochet with i felt more of an knitting yarn so i made this bag with the black one , i knitted it!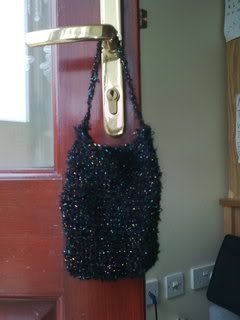 its a wee back to keep my smal prayer book in so it won't get grubby in my hand bag but then my DD7yrs old has taken claim to it! Am i ever going to get to keep something for me? My DD decided it needed a flower so i made this free style meaning my own made up pattern and it looks horrible so we decided not to use it. The kids then said i should have made it in another colour and guess what? They are right!
ok for some more online sites!
this
one
is just off Oxford St
Special offers on
now
Intresting
wool
And last but not
least
Also found this
site
may intrest you budding crochters