I really thought these rolls where already on here. A many a request I had a lot and realised they are not. These are my own recipe although I amsure someone somewhere else makes them too. As i use my eyes to measure, my own account of recpie writting maybe vauge, if you have any questions please ask in the comment section and I will by the will of Allah try to help you produce these yummy rolls. For me these are Italian themed hence the name.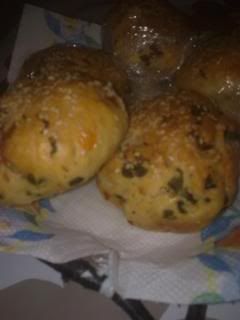 I used half a bag of 1kg flour
1 jar of sun dried tomatoes in olive oil, cut up the tomatoes in smaller strips. Add the tomatoes and olive oil to the flour.
1 bunch of fresh spinach washed and chopped.
1 tub of ricotta cheese
1 table spoon of yeast (I use instant)
Salt to taste
1 teaspoon of oregano or you can use rosemary.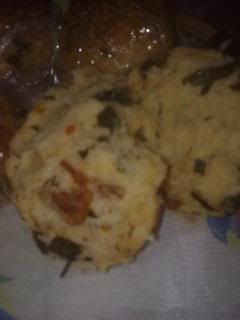 Now using warm water bind with hands togehter slowly adding the water at intervals , a little at a time. Now once it has formed into a ball, cover and leave to rise.
Once risen , knock back and kneed a little. Oil a tray and roll balls in your hands or any shape you want. Make one big plait or loaf shape if you wish. Place onto the tray with a little gap between each roll, brush with egg and sprinkle with pine nuts as I never had any I used sesame seeds.
Bake in a pre-heated oven until risen and golden (about 15 mins).
These rolls are great as a snack on thier own and with soups.
will post pictures soon inshaAllah.