mashaAllah wanted to try really , just to see if i can and here they are, i always wanted to make booties from a very young age subhan Allah , my duas answered.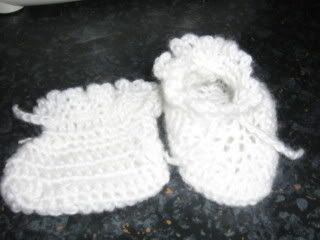 As i have no babies in the home or near by right now, they are up for grabs after i wash them, if you are in the UK and would like them free, plz say and i will post them to you free of charge. first to post first
get's
basis.Forgot to mention i am nursing a sore back so its got me resting on the sofa , so having time to crochet alhamduilah , i am doing a pair of socks now, i got the hoooking bug............