Apple Cake
you will need;
185g butter
2 Tsp grated lemon rind
2/3 cup sugar
1 Cup Self Raising flour
1/2 cup of plain flour
1/3 cup milk
2 Apples
2 Tsp water
2 Tsp strained Apricot Jam
A sprinkle of All Spice (optional)
what to do?
Grease a 20cm springform pan. Cream the butter, rind and sugar in a small bowl with electric mixer until light and fluffy. Beat in eggs one at a time, beat until combined.
Transfer the mixture and add the flours and milk. Spread into the prepared pan.
Peel the Apples and cut them into 1/4 remove the cores. Make lengthways cuts into round sides of 1/4 cutting about three quarters of the way through. arrange the quarters , around the edge of the cake (see picture). Bake for about 1 hour.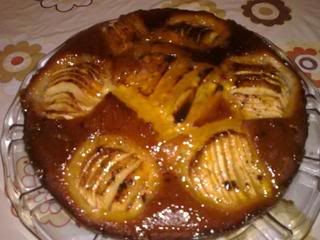 In a pan add the jam and water, simmer until smooth, spread mixture over hot cake. Allow to cool. Better eaten warm!
My
Granny Smiths Apples
were very acidity by adding the All Spice it seems to have rid some of that tangy taste!