Look what i did to mine, they look and taste wonderful....try it next time!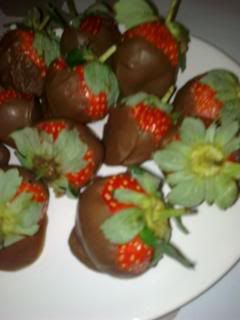 you will need;
500 g plain chocolate, or milk chocolate, chopped
2 tbsp butter
500-600 g strawberries, fresh
method;
- Clean and wash strawberries. Insert a toothpick into each strawberry.
- Put chocolate and butter in a heatproof bowl. Heat in a bath of hot water, stirring occasionally until chocolate and butter melt. Leave to cool slightly but not harden.
- Hold strawberries from toothpicks and dip each strawberry into molten chocolate mixture. Turn strawberries upside down from the toothpick until chocolate holds shape. Arrange on a baking sheet until chocolate hardens.