I made this dish in a hurry as we had some last minute guest so when in a rush i opt for Algerian cusine very quick and easy cooking.
you will need
Galic to taste
cooking oil
Fresh thyme or dried , salt , white pepper
chicken
Green pitted olives
Carrots sliced
fresh pasley
Flour to thiken sauce
Fresh lemmons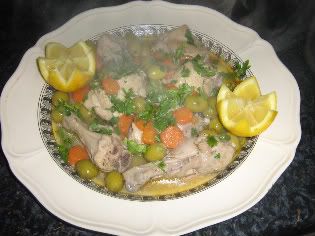 Put oil and crushed garlic in pan on low heat , add chicken , allow to seal for a while add spices and herbs. allow to seal flavours into chicken add carrots , water for sauce , simmer on medium heat , when almost done add olives. When cooked serve sprinkled with fresh parsly and lemmons.