Who remembers this
post
? and my promise of photo's?
Well i have some
my class
we are making flower brooch's for a women's event to display work we have been doing and also if anyone want to buy then they can. Bare in mind these are ladies who could not crochet and this is what we have been learning together.
this is some work the group have been working on before my arrival, patchwork blankets , knitted by various women to give to families who need them but they are still a work in progress and i am happy to bring some homework home for myself and muck in , we hope to sell some and give some away inshaAllah as there are many. Different squares have been knitted by different women and sewn together.
yesterday we had our stall at the event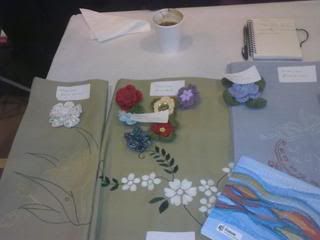 can you see the brooch's? We sold 3 while i was there so half as there are 6 , i was ecstatic and the ones we sold are the ones my students made mashaAllah. This made me even more happy as it gave my ladies confidence and a sense of achievement and my one didn't sell. I made sure i pointed this out to them but i left early so i will find out next week if they all went or not!
I gave a tutorial on the day on making 5 petal flowers and leaves. Also i spoke to many women who wanted to come to my classes so hopefully new students as well.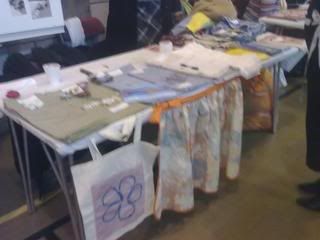 In the picture are other crafts ladies make in the group with sewing.