Alhamduilah (All praise is due to God), I have not been fortunate where family ties and relations have been. Disowned by part and all of my extended family 16yrs ago upon embracing Islam, this has been a very difficult time in my life but i bore it with patience best i could, to my ability. It does not mean the pain was any less, growing older myself and seeing a need for family ties and a need to belong the wounds were re-opened again. The most difficult of these relationships was the one with my brother , my only brother, 20yrs of no words exchanged, no build of a strong bond of love...........it really was a miserable state, he would often past me on the Street and blank me. about 1 month ago he turned up on my door step with his 2 daughters, i was in total shock but composed myself enough to invite him in and offer my hospitality. At first he was reluctant to sit down or even stop as he came on an errand for my mother (to drop some paper work. After a bit of chit chat he said ''OK i will have that cuppa''. He has been over a few times since just for a short visit but all the same a visit!
On Saturday when i returned home from a busy day out i found this bunch of flowers waiting for me with a lovely card.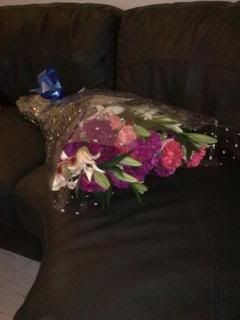 from my enstranged sister, a peace offering so the card read, what a blessing. It got me thinking this is the first time in 20yrs my whole family are talking to me all at once mashaAllah! I never stopped praying for a reunion but Allah knew best when it was for me.
It's really strange as the card is totally fab as these very birds are the ones that used to frequent my kitchen window in Algeria and gave me such pleasure just a few days earlier i was relaying this to a group of ladies and saying how i miss them so.
My
earlier
, i mean when i started blogging here is about the birds and the joy they gave me when i was living in Algeria.
You see my Lord promises His slave '
'verily after the hardship will come the ease'
'