will come back later to post recipe inshaAllah.
serve with natural yougart or cream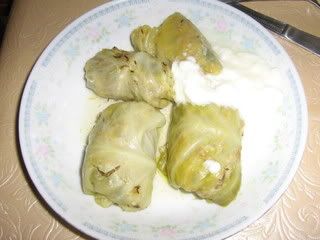 1 whole Cabbage
whole cumin
Garlic and ginger minced
Salad, pepper,cumin,curry powder, chilli powder to taste.
handfull of rice pre-soaked
mincedbeef or chicken
1 egg to bind.
Method:-
Boil the whole cabbage in a large pot of water, once soft, drain and leave to cool.
Mean-while, mix the spices & rice in to the minced beef.
Open the leaves and trim the steam-y bit of the cabbage and then put a lump of mincemeat in it and roll it up.
in a pot on the gas, oil and a teaspoon of garlic and ginger minced drop some whole cumin seeds in there and abit of each spice metioned above, add a lil bit of water and once thats boiling lower ur cabbages in to ur pot and simmer. dont not boil.