here is a how they should look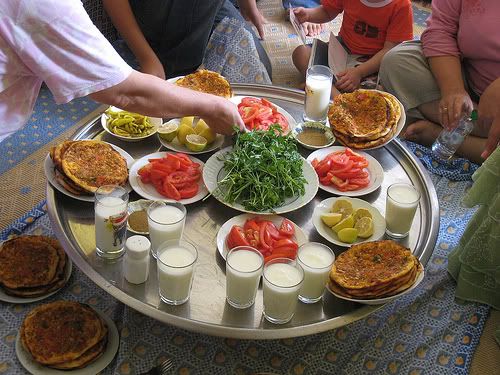 Armenian Pizza (LAHMAJOON)
by Azniv Charkoudian
Dough:
6 cups flour
5 tbsp. shortening
1½ tsp. salt
1 pkg. yeast
3 tbsp. sugar
2 cups warm water
2 lbs. lamb or beef, ground once
2 cups canned tomatoes
2 tsp. salt
pinch of cayenne
pinch of blk. pepper
2 med. onions, finely chopped
½ cup parsley, finely chopped
½ cup green pepper, finely chopped
Dough:
Place yeast and 1 tbsp. sugar in ½ cup water and let stand for a few minutes. Use a dutch oven type pan with cover for kneading dough. Combine 6 cups flour, 1½ tsp. salt, 2 tbsp. sugar, 3 tbsp. shortening, 1½ cups water. Add yeast preparation and knead. Use remaining 2 tbsps. shortening on hand and rub on bottom of pan as you knead dough. This procedure will clean hand and bottom of pan of sticky dough. When dough is smooth, place cover on pan and place pan in oven which has been warmed for only 1 minute. Let stand until dough is double in size (about 2-3 hours).
Meat Filling:
Place all ingredients in bowl and mix well. Place in refrigerator until ready to use.
Rolling out of dough:
Take raised dough and make 12 balls. Now cut each ball in half, making a total of 24 balls. Place balls on tray sprinkled with flour. Let stand 10 minutes.
Roll out each ball to 7" diameter and place on cookie sheet. Place 1½ heaping tablespoons of meat mixture on each rolled dough and spread evenly. Bake in 450o oven. Place tray on bottom shelf for 10 minutes and then move to top shelf for an additional 5 minutes.
Remove from cookie sheet and place, staggered, on a tray to cool. (do not stack) When cold, stack with meat filling facing each other and place in refrigerator. When serving, it can be warmed by placing in a 325o oven for 5 minutes. May also be served cold.
Makes 2 dozen