I used a little olive oil and sauteed some minced garlic & ginger, salt , pepper and a little sprinkle of canyne pepper. Stir fried this all with the carrots that i had previously steamed and chopped and the mange tout, a delightful side dish.
Warm Salad
New potatoes, boiled eggs, red onions, sprig of mint and some parsley, black olives dress with any dressing of your choice.
Can be eaten cold but i like mine slightly warm.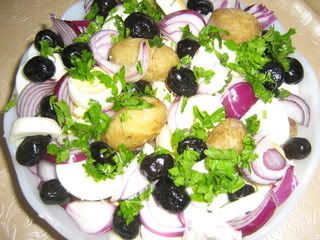 Quick Chicken Soup
with homemade croutons
1 onion, carrots plenty of fresh coriander, generous cut of butter,1 small potato,1 veg stock cube.
Put it all in a pan and add boiling water and then add previously steamed boneless chicken.
Once veg is done blend it with the hand blender.
Toast some bread on a high setting in the toaster.
Remove from toaster and cut in to small squares.