You will need
Ingredients
1/3 cup of butter (4oz)
4 cups self raising flour
4 tablespoons of sugar
2 eggs beaten
1/4 cup (1/4 pint) of milk
Filling & Decoration
2tbsp melted butter
51/2 oz of ready to eat apricots dried and chopped
31/2 oz chocolate chips
1-2 tbsp of milk to glaze 1oz of dark or milk chocolate melted
rub in method
METHOD
1.Grease your 25cm/10inch round cake tin (pan).
2.rub the butter into the flour until it resembles fine bread crumbs. Stir in sugar, eggs and milk to for a soft dough.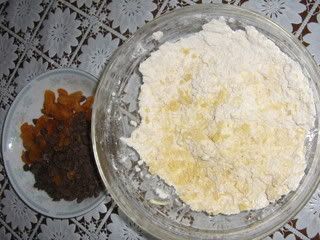 3.Roll out the dough on a floured surface to form a 35cm/14 inch square. Mine was a bit wonky so dont worry if you dont get an exact square
4.Brush melted butter over the surface of the dough. Mix it together the chopped apricots and chocolate chips . spread them over the dough to within 2.5 cm/1inch of the top and bottom.
5.Roll it up tightly like a swiss roll and cut it into slices of 1inch. Layer the rings in a slight tilt in the pan to form a ring shape. Brush it with milk and bake for 30mins on gas mark 4 or 180oC/350oF until golden brown. Leave it to cool in the tin for about 15mins then transfer to a wire rack to further cool.
6. Drizzle the ring with the melted chocloate and it should look something like this if not better