Now i have been forced by my 8year old to finish her Hex's cushion. I am not allowed to start another piece until i have done so , so she demands ( i have manged a few sneaky projects here and there). Now the hex's i have fallen out with and could not no more but then i fell back in again and felt quite happy making them. Now joining them had become a chore ! Arghhhhhhhhhhhhhhh this is one frustrating piece of work but when you look at the results, it's worth it really don't you think ? Not quite finished but nearly there!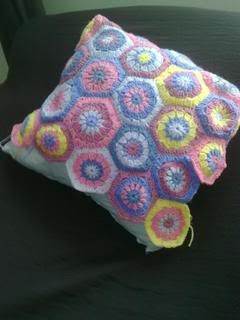 It was really a clear out of WIP some dating as far back as Dec 2008 opps.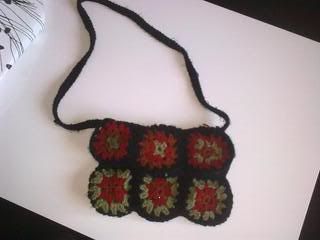 Remember this? I had a look thorough my blog post and no i didn't blog it. So why would you remember?
It was to be my first ever Afghan and i had to make 99 squares but i gave up at 15 and made it into a bag instead. At least that project is not lingering on!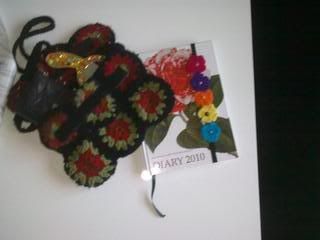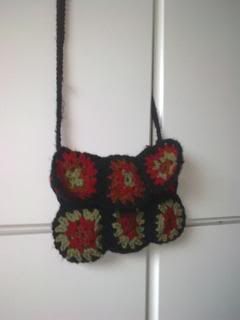 I used an old tub of hot chocolate and made it into a charity collection box for my home and used my special yarn to cover it. I really like this glittery yarn fused with black as i have done here.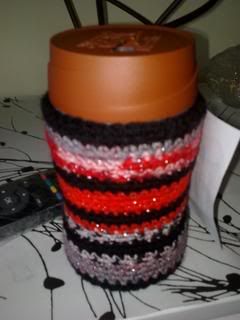 A small book sox for my books that get grubby in my hand bag , i sewed some beads on to the flap and used Velcro fastenings.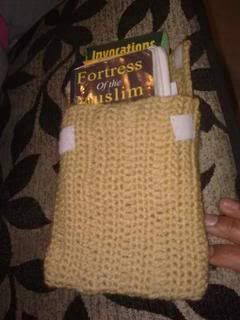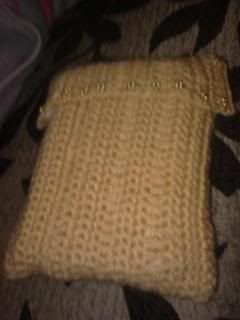 This is a felt flag my daughter aged 8 made
Can you guess which country ?
A scarf for dh (my first ever craft for him and he actually asked me yesterday ''where is my scarf?'')and i am hoping to make a
skull cap
to match it but now i feel the scarf is to thin in width , what do you think?
and finally ta daa...........................My first ever crocheted mittens , thank you
Lucy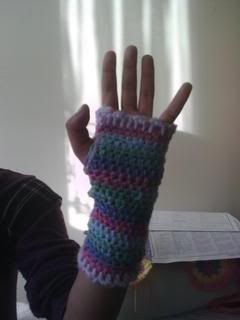 I have only made one at the moment and am working on the other.
The pattern is
here
and very easy i must add, go on give it a try you know you want too!