Alhamduilah my family are all back with me now , they returned on Saturday afternoon after 3days of gruelling travel via car all the way from Algeria to London. The scenes were emotional for all, they missed me and i them. My single life of 5 weeks came to a reality end almost immediately. The surprises i had gotten ready for each and everyone were much loved and appercahited! I could tell they are ecstatic to be home again. My some who has contracted Salmonella posioning in the last few weeks of their hols was a little worse for wear but has since build up his system with lots of TLC , mothers love and cooking! All back to school/work and life goes on as we entered the last 10 days of Ramadan subhanAllah i cant believe it has just passed so fast!
The moon at before the dawn
Sweet syrups to dilute from Algeria , mint and pommigrate flavours but i believe they have extract!
and not forgetting Algerian cakes sent by the in laws which are often art in themselves.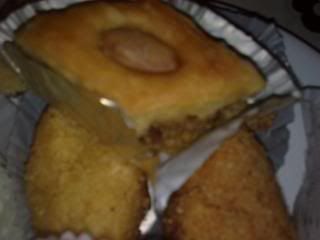 Just wanted to share some interesting cheeses i have been enjoying
Whiynsdale I am sure that's spelt wrong , a type of mild Cheddar with cranberries and my DH came home with the same cheese but with ginger and mango (i told him this must have been made with the desi pallet in mind!).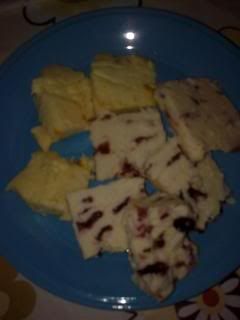 Both are very nice.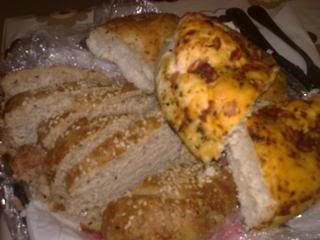 Homemade breads Foccacia and wheat Barley