Fast eleven already ! Subhan Allah we waited so long and now its all moving along , i must say that Allah has made it easy and all the fears that Satan had put into my mind before about it being hard with such a long day until sunset have all been proved wrong alhamduilah.
A picture i took of the moon outside my window last night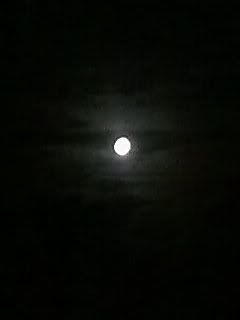 its not quite a full moon full.
I have been attending
Tarwiyyah prayers
just a quick link i googled for those who don't know what they are. Now this is the first time i have been able to attend in my whole Muslim life. So its been a really blessing for me. I have visited two mosques East London and a local one. The experience has been uplifting and warming spiritually and i hope to attend more in years to come as its has really made Ramadan come more alive for doing so not to mention the rewards boost!
On saturday i meet up with
Ameena
we prayed at the mosque and headed back to mine we ended up staying up all night well until dawn , just chatting , laughing and advicing not to mention munching on snacks. in the morning we assisted Ameena with some shopping for her bridal outfit. It was good fun and i am so glad i got the oppurtunity to help Ameena this way! I must add she is a top lass!