But I am still here alhamduilah but a colleague/sister in faith/friend what ever is no longer, she has passed her first night in the grave. Sadly i couldn't get to the hospice on Friday to see her even though i have only met her once or twice in my entire life, i felt it a duty to see this sister and offer her my company and defo my prayers, words of encouragement and support. I told the others i will go first thing Monday morning if Allah has willed it but it was not meant to be as i am here and she is in the grave....May Allah give her a spacious grave and may her waiting be one of ease ameen. Life is full of surprises some good some bad but we should cease the moment and never put of stuff as we never know just when we will depart........we should not take health for granted..........friendships..........relationships. death is a time for reflection for me also stirring recent memories of my sister in laws death and her passing. The sad thing is the pain heals slowly but surely it does and we move on sometimes we forget the real essence of this reminder. I just don't know if i am going to be here another day let alone a year. I am full filling my purpose, the mere question i asked my Lord way way back in the 1980's asking him to show me my purpose in life, am living it? In a time off wide spread evil and corruption on every corner of the globe am i able to hold on to purity and raise my trust upon this model of righteousness?
This weekend also saw the end of my children's Arabic school, it was the last day filled with presentations and a social event. They did well but not as well as i know they could have, i feel like it was a year not used to its full capacity. They could have made more effort but than again we have had a lot of trauma at home and this could have hindered the process. They both passed but i felt it was a lost year, they will not be going back there next academic year due to the distance and lack of transport. I am on the look out for something more local. It was a very hot and humid day Saturday so i was not cherishing the idea of being away from home for the most of it. Once i dropped the kids off i had about 2hrs to pass so me and the eldest headed to the local shopping centre as she needed some trainers for her trip today. While we passed for some lunch in the open , we sat in a small garden that was shaded and pretty empty compared to the other busy areas. we found a bench and sat down to devourer our sandwiches. i heard a rustling sound looked around saw a RAT the size of my arm below the elbow in amoungst the bushes , i told my dd she laughed and said it was a squirrel and i am imagining it. i grabbed my bags of the floor , put me right of my sandwich and then i saw another runing across from one path to another and then dd saw the same and we grabbed our bags and made a run for it,,,screaming arghhh............we must have looked a sight. as i was running i saw yet another starring at me from the bushes . Yuk a rat infested public garden! Really put me off the area and the nearby market that's for sure!
By the time we arrived back the stage was getting ready for the presentations and awards cermonies. First up one of the children did this presentaion and i liked it so much.
The Bag of Cookies
A woman was waiting at an airport one night,
With several long hours between her flights.
She hunted for a book in the airport shops.
Bought a bag of cookies and found a place to drop.
She was engrossed in her book but happened to see,
That the man sitting beside her, as bold as could be.
Grabbed a cookie or two from the bag in between,
Which she tried to ignore to avoid a scene.
So she munched the cookies and watched the clock,
As the gutsy cookie thief diminished her stock.
She was getting more irritated as the minutes ticked by,
Thinking, "If I wasn't so nice, I would blacken his eye."
With each cookie she took, he took one too,
When only one was left, she wondered what he would do.
With a smile on his face, and a nervous laugh,
He took the last cookie and broke it in half.
He offered her half, as he ate the other,
She snatched it from him and thought... oooh, brother.
This guy has some nerve and he's also rude,
Why he didn't even show any gratitude!
She had never known when she had been so galled,
And sighed with relief when her flight was called.
She gathered her belongings and headed to the gate,
Refusing to look back at the thieving ingrate.
She boarded the plane, and sank in her seat,
Then she sought her book, which was almost complete.
As she reached in her baggage, she gasped with surprise,
There was her bag of cookies, she couldn't believe her eyes.
If mine are here, she moaned in despair,
The others were his, and he tried to share.
Too late to apologize, she realized with grief,
That she was the rude one, the ingrate, the thief.
How many times in our lives,
have we absolutely known that something was a certain way,
only to discover, often too late, we were wrong...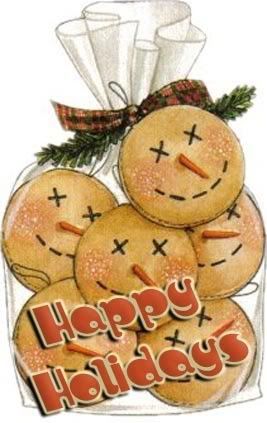 If you want to
view
it :
I just loved it and with the young child explaining the moral at the end. There was an Adan competition between 3 students where the parents voted which one they liked best and he won the prize. the Sher passion and beauty was amazing masha Allah. There was poems in Arabic , songs which my wee one took part in.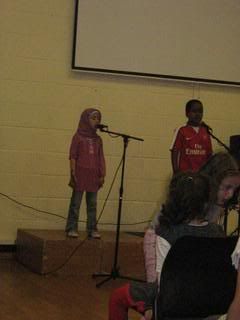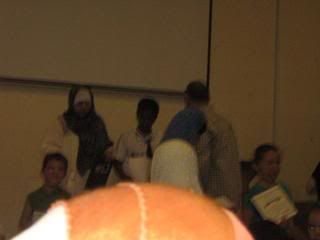 There was quran recitation and lots more. A food court and bazzar area, i picked up these two pieces of hand painted Islamic Art, i met the artist a lovely sister called Saba, who told me when the kids go to bed she get her paints out.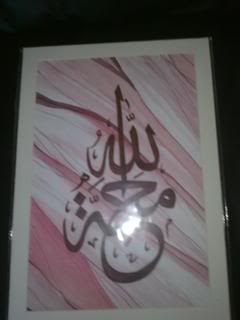 other things that have been happening this week gone.......
My dd was off school sick for 2 days so we got busy making a cake for the ladies at my Islamic Studies class
Hot weather and not knowing what to cook , a simple prawn and veg noddles dish and a mag to ponder over for inspration.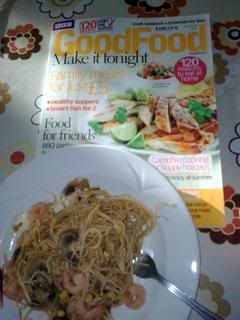 I was very excited about my arrival of Tafsir books for my younger two kids but deflated when they arrived as i was expection more but was pleasently suprissed when we got using them . I purchased them from
here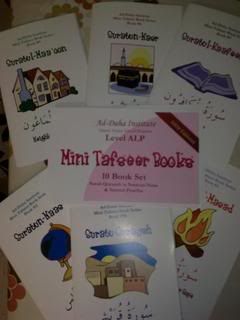 My dd playing secetary so sweet mashaAllah.