My PC crashed again a long absence means i was missing you all too. My DS10 downloads some game or the other and then messes all my system up, in an ideal world each child could have his/her own lap top but them will come other dangers too. So i am back with a blank page , all my files deleted so i am slowly re-building again!
Here are some projects i tackled in my PC absence continuing with my Palestine Support. I made an
activist clutch bag
that my DD15 took possession of on first sight and made it into a handy bag, have a look and see what you think?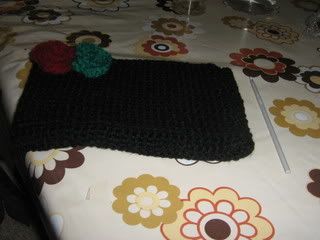 Then there was an ipod holder for DD15 while she is on the move around the home, ideally hoovering.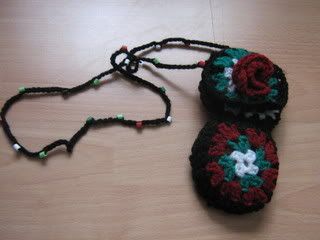 I had ago at making a ring i made two one in black with red beads but my sister took it the very minute it was taken of the hook! I ordered some yarn esp for jewelry making but remain disappointed with it. The silver looks like tin foil too shiny.
Another yarn i ordered is impossible to use on a crochet hook so iam knitting a cover for my prayer book with it instead as its getting all grubby in my hand bag so i though this may give it a longer life inshaAllah (God willing).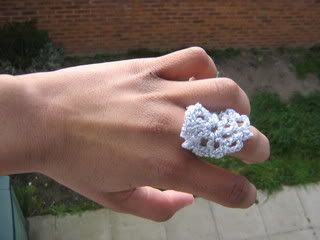 Other stuff been happening my DH has been extremly unwell and has been signed of work for 6weeks due to this, my DD15 has been unwell so i have been looking after them in the process iam now feeling unwell...need a long break i think, well the half term hols are here 2weeks would be nice to get away but i know it will not happen , my bank balance tells me so alhamduilah( All praise is due to Allah). I have been looking after my mother who has also been unwell escorting her to various appointments.
Have not been cooking much gone off food, just don't fancy anything, my DH has been living on Talbina (Barley Flour Porridge) sweetened with lotus leave honey.
Just adjusting to life and the onset of spring, i have been in the garden but my garden is nothing to shout about but i am trying my hand at putting it nice after years of neglect , i am finally putting it the way i want it inshaAlah.