I was tidying up my bedroom, when i heard some noise coming from the allotments, it was L the old Philippine lady i knew. Who has an allotment over there, she called up 'hi, do you like artichokes?' Yes i told her, she told me to come to the gate and she would give me some.
As i was planning on making 'dolma' tomorrow i thought great. well when i got around to he allotment, i guessed i would grab the bag and go but i was taken to the patch and told to dig them up with the fork, she showed me how. As the folk went in it threw up a whole pile of fresh artichokes from the earth. I was like , subhanAllah, wow natural or what? I ended up with a bag full. they was not the artichokes i was expecting they were these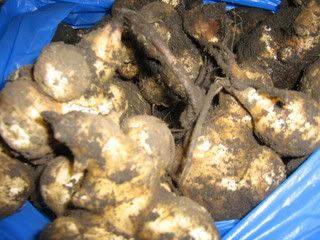 I have seen them in Algeria and really the first time i mistook them for Ginger and got very excited.
I gave them a wash
Jerusalem Artichokes
they call them.
Something new to try, due to its mis shape i could not think what to cook and soup seemed to easy. I thought potato and made a dish with meat balls. They tasted very nice, waxy and sweet. they took a lot longer than a potato to cook more to do with being organic i guess.