I have been crafting a lot lately mashaallah and i have to say been loving it Alhamduiah ! What a blessing from my Lord that he has blessed me with hands and a sane mind to enable me this humble pleasure. What a lot to be grateful for and not take for advantage.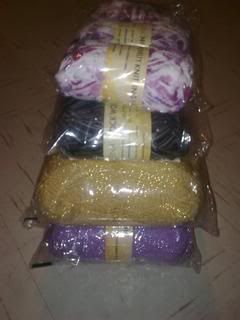 A friend and sister in Islam rings me Saturday mid morning and tells me she is at a Lidil Stores and they have lots and lots of pretty yarn at cheep cheep prices, did i want her to get me some? You bet i did , she told me all the different colours ect so i picked out some and here they are yummy yarn!
As i went to refund her the cost she then informs me its even yummier as its a gift for me from her . Jazak Allahu Khyrun Ukti (may Allah bless you sister).
A scarf for the sister, this pom pom yarn works well with knitting and as you may know not a great knitter but can do the basics!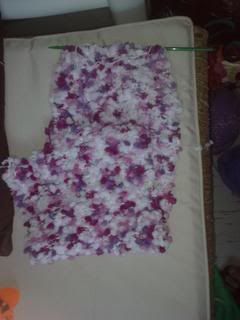 A mug cosy, not finished here in the picture , i invented my own pattern here. I am getting some Velcro today to finish it off.
This is one of my 10 minute fixes ...................Sometimes i have the spontaneous earge to create , slip into the kitchen and a short time later a very rewarding piece is created alhamduilah, TabbarakAllah!
This was made for a dear friend in mind who told me she is a tea cosy type of person!
Next up is another 10 minuite fix , A USB holder soultion for the teen at school. I used the colours to match her uniform.
It holds 2 USB's and i used a popper fastener and embellished it with buttons and the ''made with care'' sew ons.