It was not really planned as such as she had arranged a night out having a meal with friends but we decided she will have her bridal henna done at my home by my dear friend and neighbour. I said to her shall we invite a few of the local ladies, as everyone is so spread out all over the globe and i didn't want it to become a burden on anyone to travel to London. I will cook a meal and we can just have a girlie night thing. That was that! I had about two weeks to get myself into gear and i wanted to make it special for
Ammena
.
Ammena i befriend via the cyber world, with the question ''Please can you help me use my computor?'', Ammena is the forum owner of a
forum for women
with connections to Algeria. She was in Canada and i was in Algeria , years later i could not have dreamed of hosting such an important event for her subhanAllah!. It was Ammmena who got me into the blog world too she pestered and pestered me until i got my own! Anyhow lets keep to all things henna.
I did this for Ammena why? firstly for the sake of Allah, secondly beacause when i say i love for the sake of Allah its not a mere lip service and when i say sister in Islam then i mean sister! I wanted for my sister what i would for myself or anyone else i care for, i wanted her to feel she is not alone. I am so happy about so many choices of an halal nature that Ammena has made in her life mashaAllah! For this she deserves the best mashaAllah.
As the days came closer to the event , henna mania was on my mind day and night , the buzz , the excitement, i have never hosted such an event before. I want to mention here when you do things in a halal manner the blessings are abundant subhanAllah. While i was arranging this event i noted blessing after blessing subhanallah mashaAllah. On the actually day the amount of blessing, barakha i noted made me want to cry in gratefulness to my Lord Allah, as this young lady was truly blessed mashaAllah.
I enjoyed so much to do this for Ammena and the others who attended, i had a fantastic night and was so happy that everyone else was too masha Allah. The support from others was great mashaAllah. I could not have done this without the other ladies.
I also took this chance to invite
Happy Muslim Mother
a fellow blogger , what a good decision she was mashaAllah the best! She came with her daughter and it was a pleasure mashaAllah. Before she even met me she offered to do the banner, favour bags for all the guest and her wonderful hand made cards mashaAllah. A true gem, mashaAllah.
I also met
Humble Muslimah
as she is a friend of Ammena's and this was a total suprise to me , what a lovely lady too mashaAllah. Another blogger who attened was
Princess
who gave us a good laugh mashaAllah as she always does! She was the most driven women that night!
I asked others to put money in for a cake, this way everyone had a hand and we all share the reward inshaAllah!
I asked a dear friend of mine to do a short Islamic talk on marriage in Islam so we could have even more blessings on our gathering inshaAllah.
It was a top night and i pray for Ammena that she is very happy and blessed in her new life with her new companion ameen.
During the night we had a live feed going to Face book so the ladies world wide who could not join us could take part in a way. I recived a txt/sms from KSA from another blogger ...............
with a Saudi accent
Which i read out to all attending the party , thank you so much.
I want to mention
Sonya
who sadly was unable to make the party and i know she very much wanted to be a part of it. May Allah reward her for her efforts and she was missed and mentioned on the night!
I just want to thank all that attended the party was you and would not have been as it was without you all mashaAllah.
I had serious camera trouble on the night , was unable to picture so i have copied pictures from others but if you want to see more do check out
Ameena's blog
and
Happy Muslim Mamma's
blog's.
Now for the pictures :
The first surprise for the night was the table feature i put together for Ammena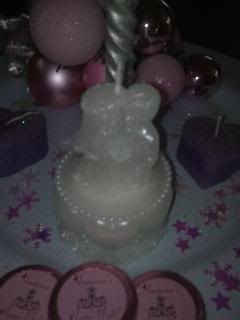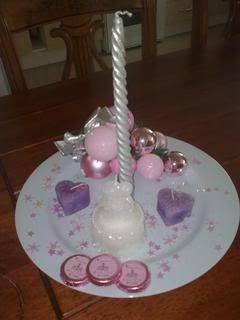 I had personalised chocolate favors made for all and cones as gifts for all to take home.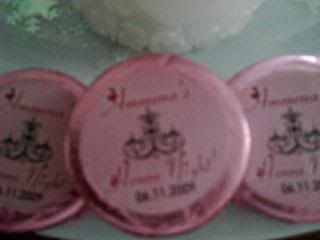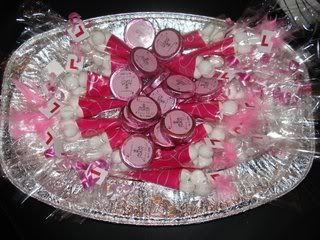 The Banner Happy Muslim Mama (HMM) had made, its pictured better on her blog.

She had made cards too see them on her blog. Henna for the bride (the theme for this event), HMM is a henna artist too another talented lady mashaAllah! HMM brought a basket full of henna cones and books full of designs for all...........and many took up this opportunity to decorate mashaAllah. HMM also put together wonderful bright coloured boxes of delight favour's for all to take home mashaAllah.

My DD8yrs old made a gift for Ammena as she loves crafting , came you guess who its is meant to be?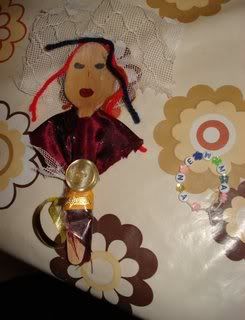 A gift for me .............certainly brightened me up , i like it mashaAllah and thank you.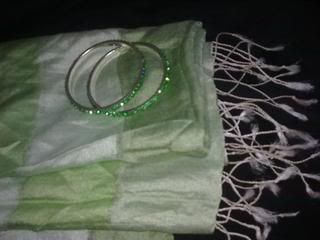 I had put together some items the bride to be had to wear all night, a veil
and a feathered boa
Which she dutifully adorned most of the night.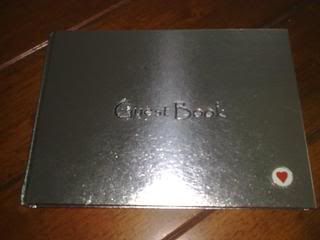 A keepsake book i had been compiling with the help of Sarah, i asked ladies globally to send messages for Ammena and i would print and paste them into the book.
I asked the Henna artist to do a page of henna with the desgin so when it fades from her hands she has the memory to look at!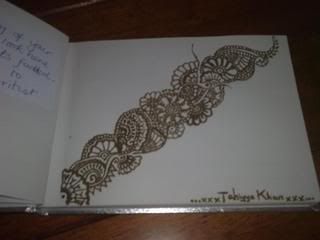 We had fun and games , with blind folded food tasting game and a quizz.
Food! We had a table of starters that i didn't picture at the start and i cooked Indian dishes
This was the one and only disaster of the night , i burnt the mini pizza's while i went of to answer the door.
Oh the kheer came sloppy as i decided to use cream instead of condensed milk.that will teach me not to experiment on the actual event day.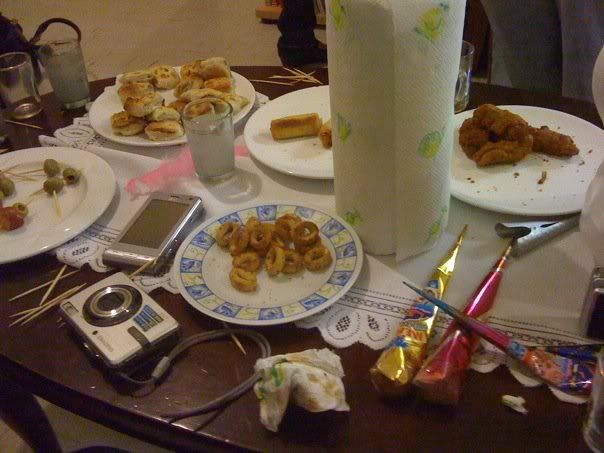 Next up was the cake and sparkinging candles (fireworks i call them lool). It was so funny as it was my first time using them , i placed them into the cake first , so it was hard to light.taking time and then i decided to remove them and try and they went off straight away setting the smoke alarm off.............it was so funny.


A night of great memories alhamduilah!