Now Okra is something i remember well as a child and it was a dish often eaten in our home. I remember the Saturday afternoons spent in the kitchen with mum , me watching her cook, peel and slice (this is how i learnt to cook). Me and my brother used to mess around with the ends of the Okra sticking them on our faces and fingers, pretending to be scary with pointed fingers.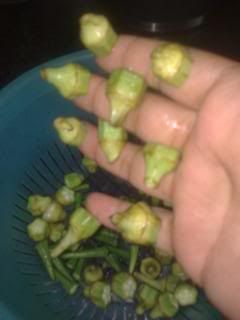 There is always a certain excitement when i see Okra in the market. There are different ways i cook it now but this is similar to my mothers recipe except she didn't add potatoes. I added potatoes for the children in my home as no one likes Okra not even DH! A lot of people moan about it being gluppy and sticky but i have a trick to avoid this as much as possible.
Here are mine i made this morning for my Iftar (fast breaking dish ) Latter on this evening inshaAllah!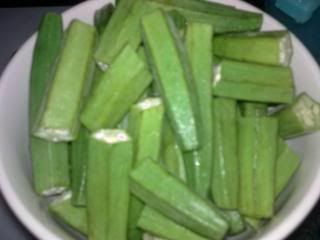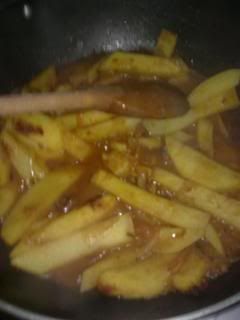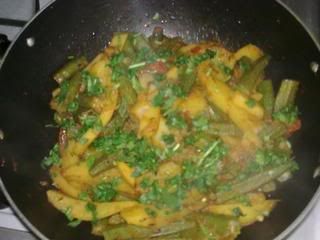 Method
Slice one medium sized onion , allow to sweat in a non stick pan with a little oil, once it starts to brown remove the lid a little and add some caraway seeds or cumin (its up to you), after a further 5 mins add some minced ginger and garlic allow to brown. Then add some chopped tomatoes about 2 medium sized ones. Allow this all to simmer for about 7 mins stirring well on a low heat ...........add your spices salt, haldi, garm masla, chilli powder.
I thinly sliced some potatoes and added them first to the masla mix adding a little water and cooking covered until the potatoes were almost tender. Then i added the okra on top and 1 thinly sliced green chilli. Cover and cook until the okra is almost soft , then remove the heat , stir it once to incorporate the okra to the potatoes. Sprinkle with freshly chopped coriander.
Enjoy with natural yougart and chappati's.