About two weeks ago i went to visit my mom. My brother and his family all live in my mom's house with her. Upon my arrival there was someone already in the house , my sister in laws friend from what i could make out. I was ushered into the back room where my sister in law has her workshop and she started talking shop with me. While the other lady was conversion with my mom in the hall. my sister in law looked alarmed but i didn't understand why. She told me in a whisper to stay in the workshop until this lady left. Afterwards she bushed it off with don't be offend, that i asked you to stay in this room. Me being me said no, not realising the real implications of this incident!
It dawned on me much later that they felt ashamed of me and felt the need to pass me of as a client and not family for the simple fact i am a Muslimah dressed in Islamic attire. Now this hurt , i thought they had gotten over all these prejuideces. Maybe they never did? Maybe its an act and deep down they have not. I feel angry and i feel like a hypocrite. I am not the conformational type but what should i do? should i confront my mother and Sister in law? To be honest i don't feel comfortable going there anymore. My little sister is getting married on Monday and i am going to attend the registry office, comments were made about my dress a few months ago. Now i just feel sick to my stomach , perhaps i am not wanted!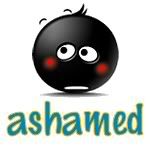 I am saddened by thier lack of honesty and their behaviour...why can't people say it as it is. I am happy with my clothing and my way of life alhamduilah and have never looked back for a second, now i feel all we had/have is a lie in respect of relations!