With yet another holiday upon us and no plans to have fun.We were left to our own devices , spur of the moment i said ok everyone shall we go Camden Town, do a picnic to my surprise they all wanted Camden town so off we went here are our pictures but here is a little about Camden town first.
Camden Town is an inner-city district in North London in the London Borough of Camden. Camden Town is sometimes referred to simply as "Camden", but it should not be confused with the borough. The area is popular with students, including those from overseas. It is also an area with a large congregation of people following alternative subcultures, most notably goth, punk and emo.
The area is home to many media types and there is also a mix of famous local residents who reside in the beautiful old Victorian houses in streets such as Albert Street and the near by Primrose Hill area or the new modern apartment developments near the Canal.
Camden Town also has the green spaces of Regents Park and London Zoo on its doorstep & boat trips on the Canal are available from the Camden Lock. Long known for its music heritage, certain pubs are favorite meeting spots for local musicians such as Amy Winehouse. The Camden Market is world famous and one of the biggest in Europe, consisting of hundreds of stalls and small shops selling clothes, jewelery, art & ornaments, ideal for some gift shopping. Sunday is a popular day to visit the market.
There is also furniture and lots of shoe shops including the original Doc Martens shop and an Aldo outlet shop & a large Organic shop & cafe.
A fun, eclectic & vibrant part of London, not to be missed by the young & young at heart!
My kids did not like the place said it was too dull and morbid, i felt it was certainly better in my youth, with hardly any punks about today.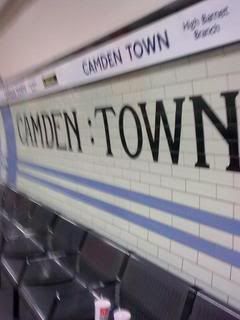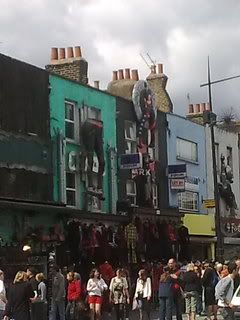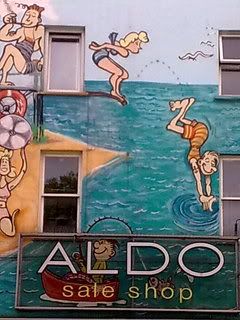 We had a vegan meal next to Camden lock , kids hated the food BTW no pleasing some really , i was very diaspointed by their behaviour!