What's for tea ummi? I decided to make these for our tea today never mind dinner, i am having one of thoses out of balance days not on top today anyhow have a look BTW i had a sneaky slice and they are yummy mashaAllah and very easy to make.
You will need
4oz butter
2oz caster sugar
6oz plain flour
1/2 teaspoon of cinnamon
Alittle beaten egg for glazing
1oz flaked almonds
1 tbl spoon of granulated sugar
How to do it
Well grease a 28X18cm swiss roll tin, i never had one did you notice so i used the top cover of my pyrex cassorole dish.
Cream the butter and sugar together till light and fluffy. Sieve the flour and cinnamon and work well together. Press into the prepared tin and flatten i used my fingers but a palette knife works well.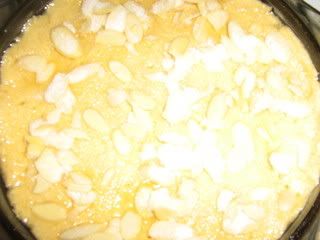 Brush with a little beaten egg and prick with a fork. Sprinkle over the almonds and sugar. Bake in a moderate oven for 20 mins or until golden brown. cool in tin and mark into slices while still warm.