ALOO PARATHA RECIPE (Aloo Ka Paratha)
This is something that reminds me of my desi life when a child as the English have a Sunday fry up for breakie in our home it was Aloo parata, moli parata, gobi parata and some days kemma parata. Makes a filling meal or snack.
Ingredients for alu paratha :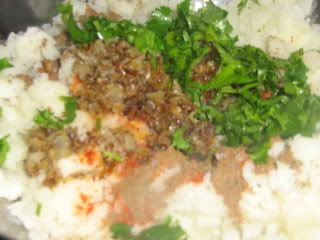 Stuffing:
2 boiled Potatoes
1 small finely chopped Onion (optional)
Coriander leaves finely chopped
Small piece of Ginger (very finely chopped or grated)
1 or 2 green Chilies (finely chopped)
Salt Red Chili powder and Garam masala as per taste
Butter
Preparation of aaloo paratha :
For the cover make dough out of whole-wheat flour (atta), as you would do for any parantha/roti.
Mash the potatoes.
Add all the stuffing items to mashed potatoes and mix it properly.
Make two medium size chapati, add the filling to the one chapati and cover it with the second one.
Now roll it slightly. Put it in a pre-heated oven at 450-degree. Cover top oven grill with aluminum foil & Place Paratha over it for easy baking.
When top side is done change the side and keep a check (till properly baked)
Spread butter over it. Serve aloo paratha hot with natural yougart or pickles.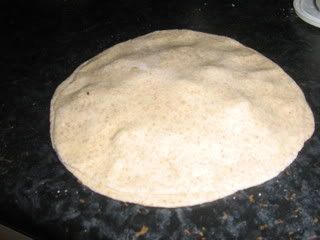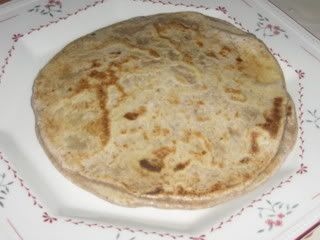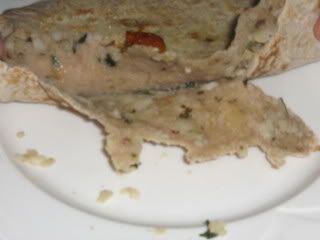 I tryed to make some molli ones so i had just come to show you the pic's
Moli is a white raddish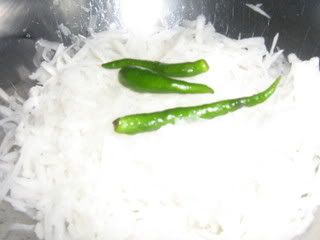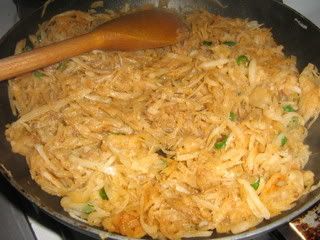 this picture is taken from the net and not my finished product.
Ingredients:
For stuffing:
3 Mooli (Radish)
Salt To Taste
1/2 tsp Red chilli powder
1/2 tsp Corainder powder
2 Green chillies, chopped finely
2 tbsp Corainder leaves
For dough:
2 cups Wheat flour
Salt To taste
Water As needed
Butter
Preparation:
Sieve the wheat flour and salt. Add water and knead to stiff dough. Cover and keep aside.
Peel and grate the radish. Squeeze and drain all the water.
Heat the pan and fry the radish to light brown. Add salt, red chilli powder, green chillies, corainder leaves and mix well. Allow it to cool.
Take some dough and roll into small puri, put 2tsp of stuffing and cover all the sides. Roll again into a thick, round parantha.
Heat a tava and fry the mooli ka paratha both sides to crispy and brown. Put some oil over the paratha.
Serve the mooli paratha hot with raita or curry.