This was supposed to be 6 muffins but i didn't have a tin, so the cases collapsed and spread out whilst pouring and then i decided to put the mixture into a cake tin and i made this instead al-hamduilah. Happy to say none was left on the plate, went down a treat al-hamduilah.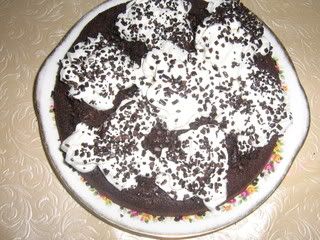 Iced Banana Loaf
8oz self raising flour
1/2 teaspoon of salt
1/4 teaspoon of mixed spice
4oz margarine or butter
1lb of ripe bananas
6oz sugar
2oz roughly chopped walnuts
4oz chopped mixed peel
2 large eggs lightly beaten
FOR ICING
4oz icing sugar
About 1 tablespoons of water
Few walnut halves about 9
Quartered orange slices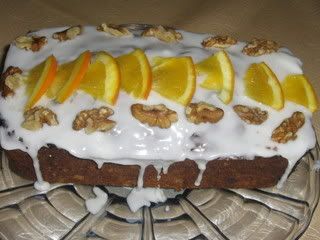 Well grease a 1 1/2 loaf tin. sieve the flour, salt & spices into a bowl. rub in butter until it resembles fine bread crumbs. Peel and mash the bananas, add to bowl and remaining ingredients, mix well till all blended. Pour into pan and bake at gas mark 4 for 1hour and 10Min's, leave to cool in pan for about 5-10Min's before turning out. Leave to cool well before icing.
4oz