I fancied baking today and some thing filling , i find breads made with semolina are heavy in texture and bite, more filling so in line with my frugal cooking month, i invented these, fusion cooking , i used equal amounts of semolina and plain flour, yeast, milk, an egg, salt and sugar. I grated the rind of an orange about a tablespoon.
I shaped and brushed the rolls with egg and sprinkled them with sesame seeds and aniseed's.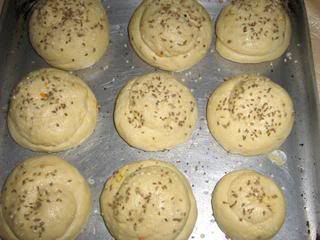 leave them in a warm place to rise before baking.