We had decided a few days ago to have a picnic on the beach with a few friends, there was me and my 3 kids, Prof K , Sommayah & her 2 kids, Um R her new born, 4yr old dd , Um M & her 4 kids ofcourse the dh's came to bar mine.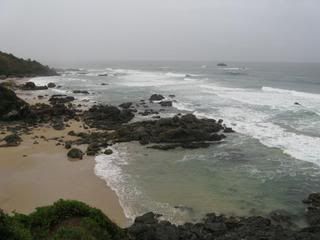 We set off as a trail of 3 cars to a local beach Sidi frej, in season its a very bustling touristic venune , now outa season its pretty isolated but still busy. We the day was overcast but warm but by the time we got to the beach the wind picked up and it began to rain only a drizzle but it didn't help matters. We had prepared a picnic , Sommayah made delicious breaded turkey strips, shrimps too with a delightful mayo and chilli dip! she had been busy making cup cakes with butter cream filling and strawberys both were lovely mashaAllah. Well done sister and thanks......BTW were they fresh strawberries in the cup cakes?
Um R is a tourist at this time visiting Algeria and is due to return to London on Sunday , poor her and her kids looked cold and i am sure they was. As there were alot of young kids they decided to leave at first i was ready to go too but then dd1 said NO! lets stay , as the others have to go as young kids are cold ect , so i said ok , I am glad I did as the drizzle stopped and the sun emerged breifly. We stayed for longer , went for a walk around the port and locked at the yacht's. Kids went on horse and pony rides, we had ice creams well i didn't but it was banana splits for the kids. We got home around 8pm just before magrib. the kids seemed to enjoy it mashaAllah . I wanted it to be nice as dd1 is due to start her exams tomorrow and she is unwell at present so i wanted it to be a light reilef for her and something to lift her spirt a little inshaAllah. I must tell you that sea air is good as , they all crashed out very soon after we returned home mashaAllah. It felt like a scence out of the UK , the wet weather and Brighton or Margate by the seaside, with our flasks of tea and braving it dispite the weather subhanAllah. Qadr Allah we made the most of the situation I felt for Umm R but she mashaAllah is no party pooper and braved the time dispite the fact she was cold.........she said it reminded her of a film Barji on the beaches....never seen it myself but i am sure its a barrel of laught's per minute funny thing is i was going to make some potato bajhi's but i forgot to tell the sister!